In today's economy, everyone seems to be searching for signs that a recovery is coming soon. Many experts agree that it may actually already be in motion or will be starting by the 3rd quarter of this year. With the housing market positioned to lead the way out of this recession, builder confidence might be a bright spark that gets the recovery fire started. The construction of new homes coming right around the corner is a huge part of that effort, and it may drive your opportunity to make a move this year.
According to the National Association of Home Builders (NAHB): 
"New home sales jumped in May, as housing demand was supported by low interest rates, a renewed household focus on housing, and rising demand in lower-density markets. Census and HUD estimated new home sales in May at a 676,000 seasonally adjusted annual pace, a 17% gain over April." 
In addition, builder confidence is also rising, opening up opportunity for newly constructed homes in the market. The NAHB also notes:
"In a sign that housing stands poised to lead a post-pandemic economic recovery, builder confidence in the market for newly-built single-family homes jumped 21 points to 58 in June, according to the latest National Association of Home Builders/Wells Fargo Housing Market Index (HMI). Any reading above 50 indicates a positive market."
As noted above, this upward trend is supported by builders reporting an increase in demand for single-family homes in suburban neighborhoods with lower-density populations, a result of the COVID-19 health crisis.
Moreover, the most recent Monthly New Residential Construction Report from the U.S. Census indicates that authorized building permits for new residential construction increased by 14.4% month-over-month from April to May, and housing starts were also up 4.3% over the same time period. (See graph below):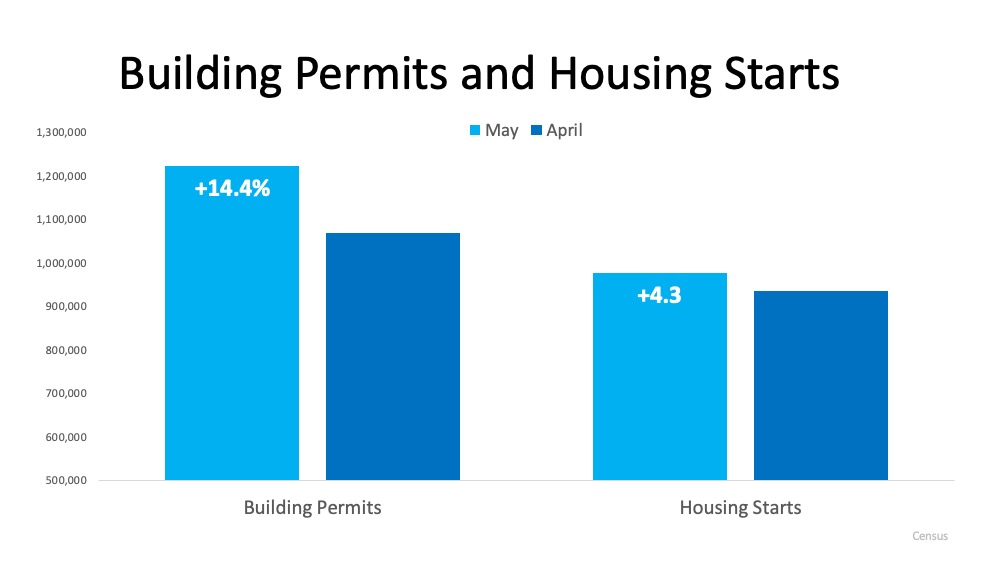 Although housing permits and starts are both considerably lower than they were at this time last year, indicating the new construction market is still working on building its way back up, the trends are moving in the right direction when it comes to having an impact on the U.S. economy. They're also poised to create the much-needed new homes for Americans to purchase in a time when inventory is so scarce.
Dean Mon, Chairman of the NAHB notes:
"As the nation reopens, housing is well-positioned to lead the economy forward…Inventory is tight, mortgage applications are increasing, interest rates are low and confidence is rising. And buyer traffic more than doubled in one month even as builders report growing online and phone inquiries stemming from the outbreak."
The gap between homes to buy and the high demand from purchasers may be narrowed by new construction, and the data shows that these homes are on their way into the housing market.
So, if you've debated whether or not to sell your house this year because you're not sure where to move, a newly-built home – designed to your specific liking – may be your answer.
Bottom Line
With new residential construction right around the corner, you can feel confident about selling your house and having a place to move into. Maybe it's time to finally design the home you've always wanted. Let's connect today to discuss selling your house while demand from eager buyers is high.