Homeownership is one of the best ways to invest in your financial future, especially as your home equity grows. Home equity is a form of forced savings that can work to your advantage as the value of your home appreciates. Across the country, home equity was increasing before the health crisis swept our nation, and it continues to grow throughout the year, giving sellers powerful options in this market.
According to the just-released Q2 Homeowner Equity Insights Report by CoreLogic:
"U.S. homeowners with mortgages (roughly 63% of all properties) have seen their equity increase by a total of nearly $620 billion since the second quarter of 2019, an increase of 6.6%, year over year." 
Dr. Frank Nothaft, Chief Economist for CoreLogic, attributes much of the equity growth to rising home prices:
"The CoreLogic Home Price Index registered a 4.3% annual rise in prices through June, which supported an increase in home equity."
As the map below shows, CoreLogic also indicates that home equity is increasing in every state:
"In the second quarter of 2020, the average homeowner gained approximately $9,800 in equity during the past year."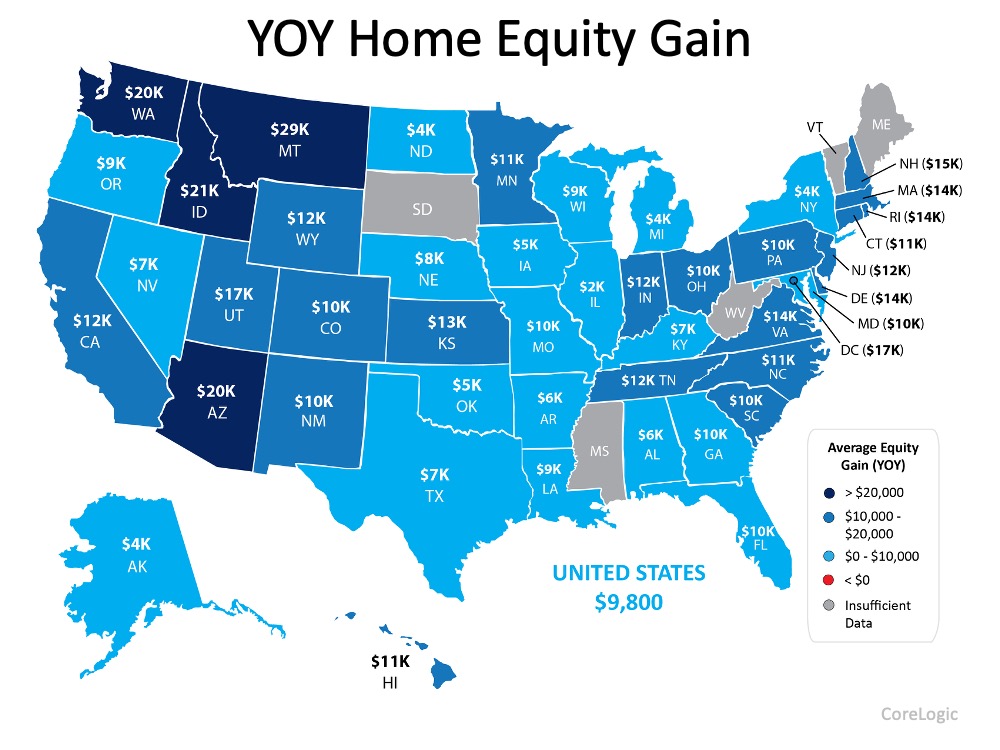 What Does This Mean for Sellers? 
When equity is rising, as it is today, you may have more invested in your home than you realize. Mark Fleming, Chief Economist at First American, notes:
"As homeowners gain equity in their homes, they are more likely to consider using that equity to purchase a larger or more attractive home – the wealth effect of rising equity. In today's housing market, fast rising demand against the limited supply of homes for sale has resulted in continued house price appreciation."
If you've been considering making a move – whether that's to get into a bigger home or to downsize to a smaller one – it's a great time to reach out to a real estate professional to learn how to put your equity to work for you. You may be in a position to pay that equity forward toward your next home purchase and afford it sooner rather than later.
Bottom Line
If you're thinking of selling, let's connect so you can take advantage of what the current market has to offer today.